Quality Assurance - Fittings and Weld Overlay
Teekay butt-welding fittings are subjected to strict in-process inspection at each stage of the production process - from raw materials handling to finished product shipping. They are visually examined for conformity to company specifications, and tested under the applicable ASTM, ANSI, ASME, MSS and DIN codes and standards. They are also tested to make sure they conform to their intended use. Upon request, we call in officially certified test agencies to witness the inspection procedures.
Raw Materials Receiving Inspection
Teekay butt-welding fittings/gaskets/overlay products are made of materials which meet ASTM and intracompany specifications. Raw materials inspection are carried out as follows:
Dimensional Inspection
Visual Inspection
Collating with material certificates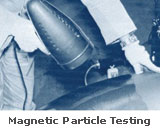 The following other inspections are performed as necessary:-
| Inspection / Test | Fittings | Overlay |
| --- | --- | --- |
| Ultrasonic Inspection | External Surface | To check bonding between base material & filler |
| Magnetic Particle Examination | External Surface | Base Metal |
| Radiographic Examination | Welded fittings | |
| Liquid Penetrant Examination | External Surface | All accessible overlay areas |
| Ultrasonic Thickness Measurement | Fitting body | To check overlay thickness (Final less base thickness) |
| Intergranular Corrosion and Microstructure Test | √ | √ |
| Chemical Test | Composition in conformance with grade | Dilution level |
In-Process Inspection
Teekay butt-welding fittings are manufactured with carefully selected materials of the finest metallurgical quality on well controlled jigs, tools or molds based on Teekay's various working standards. Meeting quality specifications is a key feature of Teekay butt-welding fittings.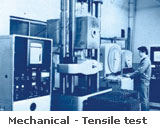 The following are the major in-process inspection stages :
Visual Inspection
Dimensional Inspection
Shape Inspection (fittings only)
Hardness Test (fittings only)
Temperature Check (fittings only)
Processing Conditions Check
Raw Materials Identification (by marking)
Final Inspection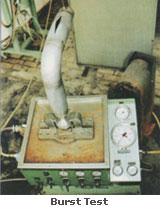 The final inspection of Teekay butt-welding fittings is performed as follows:
Standard Product Inspection

Visual Inspection
Dimensional Inspection

Inspection Certificates

Teekay certificates are issued unless otherwise requested by the customer.
Lacquering (fittings only)
After final inspection unless otherwise specified, Teekay seamless fittings are coated with rapid drying oil for protection against rusting during shipment and storage. If desired, fittings can be supplied either unoiled or coated with nondrying oil. These rust-resistant oils can be easily removed with caustic soda solution or thinner.
Marking
After final inspection, each fitting is marked, by punching/electro etching (recommended for SS material with a thickness below 2.1mm) with Teekay's trademark, nominal diameter (or outside diameter), wall thickness, grade and production lot no.
Depth Of Stamping:
Marking should not be deep enough or strong enough to cause cracks or to reduce the wall thickness of the fittings below the minimum required.